http://edition.cnn.com/2013/03/19/opinion/iraq-war-oil-juhasz/index.html?hpt=hp_c2
Why the war in Iraq was fought for Big Oil
March 19, 2013 -- Updated 1507 GMT (2307 HKT)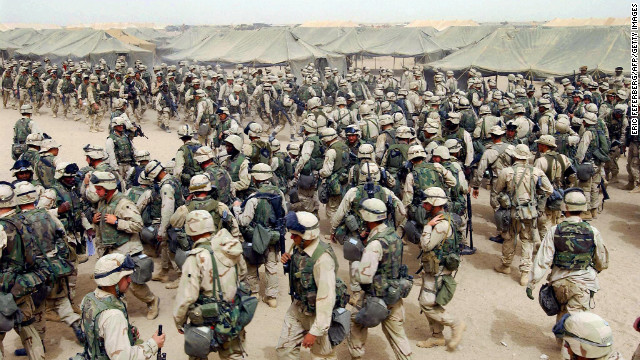 U.S. Marines in northern Kuwait gear up after receiving orders to cross the Iraqi border on March 20, 2003. It has been 10 years since the American-led invasion of Iraq that toppled the regime of Saddam Hussein. Look back at moments from the war and the legacy it left behind. For more, view
CNN's complete coverage of the Iraq War anniversary.
The Iraq war, 10 years on
Editor's note: Ten years ago ,the war in Iraq began. This week, we focus on the people involved in the war and the lives that changed forever. Antonia Juhasz, an oil industry analyst, is author of several books, including "The Bush Agenda" and "The Tyranny of Oil."
(CNN) -- Yes, the Iraq War was a war for oil, and it was a war with winners: Big Oil.
It has been 10 years since Operation Iraqi Freedom's bombs first landed in Baghdad. And while most of the U.S.-led coalition forces have long since gone, Western oil companies are only getting started.
Before the 2003 invasion, Iraq's domestic oil industry was fully nationalized and closed to Western oil companies. A decade of war later, it is largely privatized and utterly dominated by foreign firms.
Read the rest at CNN.COM